Adding a product to your registry
Adding a product to your registry

By Liana
updated 16 days ago
Firstly, congratulations! Let's start adding products to your registry so your guests can start buying you gifts!
This is an introduction to adding products through your Wedsite admin. In order to get to your Wedsite admin, please login.
Adding a product
From your Wedsite admin, click the Registry tab.
From the Registry page, click Add Product.
Enter in your Product details
Click the Save button
Product details explained
The Product details section of the Add product page looks like this: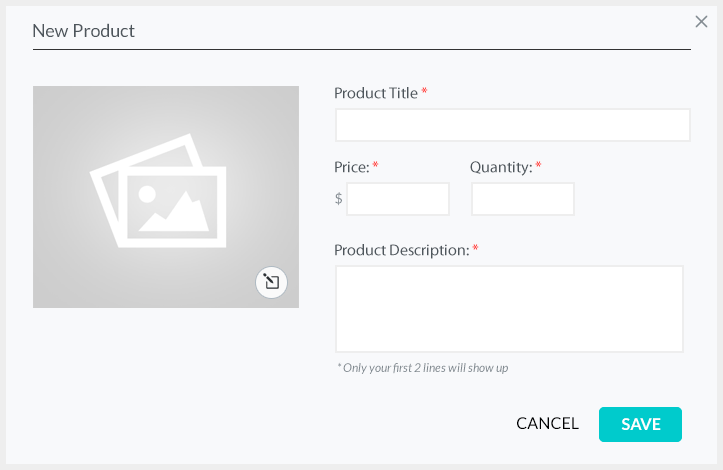 Image
Click the edit symbol on the bottom right of the image placeholder. Select the image from your computer and click Upload. If your image doesn't look quite right, please see the image help section for helpful tips.
Product Title
Enter a name for your product. This field is mandatory.
Price
Type the price you want to charge your guests. Don't type a currency symbol (the currency your registry uses is set in your My Account Settings page - other currencies coming soon)
Quantity
Type the quantity needed for this product. This field is mandatory.
Product Description
Type 1-2 lines of text that describe your product. This field is mandatory.
TIP: If you have a big ticket item (eg. a lounge suite), but you don't want to just have one product costing $2000, you can make the Price a lower amount (eg. $50) and have the quantity needed set to 40. All your guests will see is the quantity still needed, so they will never know the price you set the product!
Saving your new product
Don't forget to click Save when you've finished entering all your new product details, or your work will be lost.
Your product will now appear on your Registry.
If you are having trouble adding a product, please get in touch support@thewedsiteof.com
Did this answer your question?